Obscurity factor: 3
When it comes to political thrillers, few are as effective as
Z
. When a popular opposition leader (Montand) is assassinated, the investigating magistrate uncovers evidence of the guilt of high level government officials. As they attempt to cover up their involvement, witnesses and people close to the assassinated leader are beaten, bullied and intimidated. This French language film, directed by Costa-Gavras, is based on actual events that took place in the early sixties in his native Greece and will have you on the edge of your seat, but will leave you feeling angry and wrung out.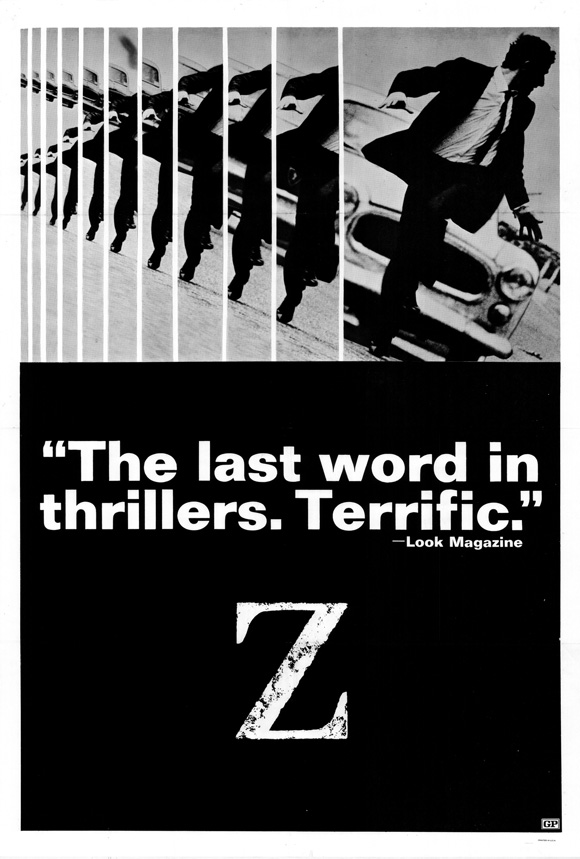 It was very well received, winning an Oscar for best foreign language picture and stirring up a lot of controversy where ever it was shown. At the time of its release, Greece was still under the rule of a Military Junta, which was supported by the US Government. The film was banned in Greece and Herbert Hoover made a statement claiming that anyone who would see it was not a true American. The left leaning point of view of the film made it the perfect target for the anti-communists.
The film is available on DVD, and has a high profile among film buffs and fans of political thrillers, however, it's profile is low with the general public in the US, as is the case with most foreign language films. If you're a fan of political thrillers, it's a must-see. The trailer is above, uploaded to YouTube by rialtomedia. The poster is available at
MoviePosterShop.com
.
Obscurity factor: 3 (available on DVD, well known to film buffs, largely unknown to the general population)