Obscurity factor: 8
This is a curious little film that reflects the spirit of rebellion that was prevalent at the time it was made. The residents of an old building in an unnamed city are about to be evicted to make way for a shiny new sky scraper with luxury rentals. They've watched as the residents of the whole block are relocated without care or compassion and are grimly determined not to let it happen to them. Meanwhile, the construction site of the first building in the complex starts having fatal accidents that result in work stoppages. Are the residents of the tenement waging war on their evictors?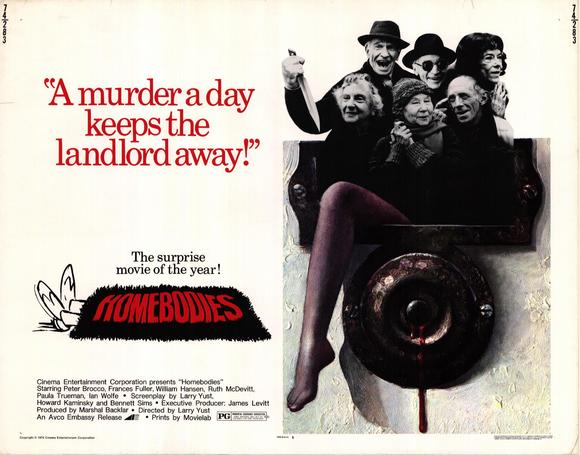 This film is one part social commentary and one part horror film. The murderous impulses of these octogenarians are at once comical and repulsive and the graphic depiction of the gruesome acts, while minimal is effective. The deeper, melancholy message about how we dispose of our aged is also on full display. Look for Ruth McDevitt and Ian Wolf as the super and his wife.
This film is not yet available on DVD, though you can find it over at iOffer.com. You can also watch it in full on YouTube. The first installment of it is above, uploaded by dalekenbuck. I forget who brought this one to my attention. Whoever you are, thank you...
Obscurity factor: 8 (not available on DVD, known to horror buffs, available on YouTube)