When Marcella is given a glamorous French doll as a birthday gift, she puts Raggedy Ann (Didi Conn) in charge of her safety. This responsibility weighs heavy on Raggedy Ann's shoulders, and when Babette is kidnapped by The Captain (a pirate freshly released from his snow globe prison) she feels she must venture out into the world to rescue her. She's accompanied by Raggedy Andy, who is determined to protect her. They meet many friends and foes on their journey to save Babette, including the camel with the wrinkly knees, a gelatinous blob who wants to eat Raggedy Ann's candy heart and the Loonie Knight (Alan Sues) who is procuring victims of practical jokes for King Koo Koo, who is tiny until he laughs at people, then parts of him expand.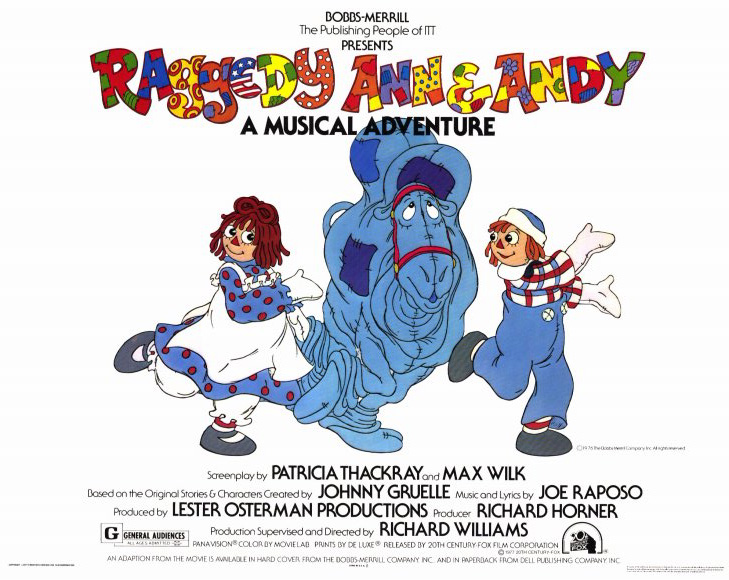 This film is one of the strangest, most subversive children's movies ever made. The double entendre is thick and obvious throughout the film, with strange sexual and drug innuendo mixed with happy-go-lucky children's fare. Considering that it was produced by Bobbs-Merrill, which was a division of Corporate giant ITT, it's even more odd. It's worth a watch, if only to marvel at how much they got away with.
The film has yet to be released on DVD, though there are VHS copies floating around out there. It's also uploaded in full to YouTube by TheThiefArchive. The upload is from a restored 35mm print and is in wide screen format and very clear and colorful. The poster above is available from
MoviePosterShop.com
.
Obscurity factor: 7 (hard to find, though has something of a cult reputation. Not on DVD, available on YouTube)