Obscurity factor: 6
Marcus Pendleton (Ustinov) has just been granted his freedom from prison, and after completing the warden's tax return, he steps out into the cool English afternoon. The warden gives him a warning that with the growing ubiquity of computers, the crime of embezzlement will all but die out, so he really should go straight. So what does Mr. Pendleton do? He impersonates computer expert Caesar Smith and gets a job in the London office of a major American corporation. Learning the ins and outs of their computer system, he's able to devise a scheme to skim a million pounds off the corporation. Along the way he meets Patty Terwilliger (Smith) - a girl who doesn't do anything particularly well, and demonstrates that with a series of disastrous jobs, including as Caesar's secretary. She and Caesar form a bond.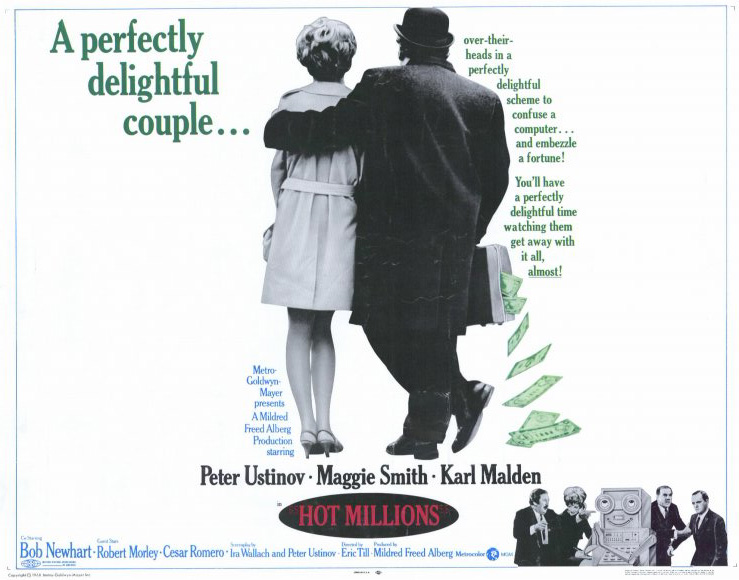 This film has been on my list to cover for this blog since I started it, but I was never able to watch it. Luckily it came up on TCM on Tuesday morning at 6, so I DVRd it. It's a really delightful film, with some lovely acting by Peter Ustinov and Maggie Smith. Also look for Karl Malden and Bob Newhart in the cast, and listen for a sensational score by Laurie Johnson. It's also notable for including rare footage of the Beatles Apple boutique, which was only open in London for a short time.
Though there's no full length streaming video of this online, you can find it on DVD. I was surprised that Netflix didn't carry it. The trailer is above, uploaded to YouTube by stsgirlie.The poster above is available from
MoviePosterShop.com.
Obscurity factor: 6 (on DVD, rarely screened, no available to watch online)