Obscurity factor: 1
On a beautiful, mid-summer day Ned Merrill (Lancaster) emerges from the woods, wearing nothing but swimming trunks, at the home of the Westerhazys. He's given a warm reception and offered a drink. As he sits there talking, he realizes that, thanks to a string of swimming pools that stretch across the county, he can swim the 8 miles back to his home. He's very pleased with this idea, and leaves the Westerhazys to attempt to do just that. As he goes from house to house, he encounters friends and parties and an increasing sense of something gone awry in his life. His memory fails him as he hears hints of his misfortunes and what began as innocent fun becomes an obligation that Ned can't abandon.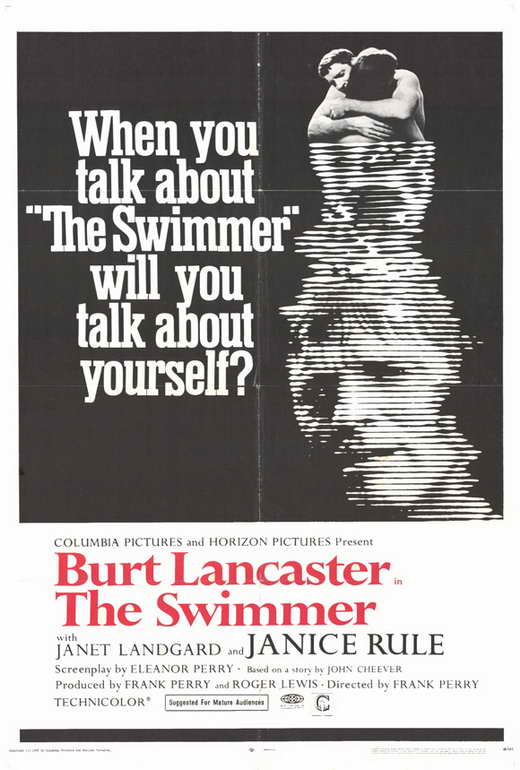 This film, based on a short story by John Cheever, is a surreal journey from youth and innocence to disillusioned middle age. It explores how we get our identities from social status, wealth and relationships. Once you see this film, it's difficult to forget because of the strong emotions it brings up. There are lots of cameo performances to look for - Kim Hunter, Joan Rivers, Marge Champion and John Cheever himself as a party guest.
The Swimmer was released on DVD in 2003, but is pricey on Amazon. They do have it available to watch instantly, however. The trailer for it is above, uploaded to YouTube by CyanArea. The poster is available at
MoviePosterShop.com
.
Obscurity factor: 1 (well known among film buffs, available on DVD, not high in general awareness)