Obscurity factor: 7
My friend Ranse reminded me of this film last night. Rosalind Russell plays Bertha Jacoby, a Jewish widow living in Brooklyn. When her son-in-law receives a post as a diplomat in Japan she joins them to live with her daughter in Tokyo. On the ship she meets business man Koichi Asano (Guinness). Both of them lost loved ones in the Japanese/American conflict in WWII and there is friction between them because of it. However they eventually strike up an unlikely romance, but the cultural differences between them must be surmounted and that seems like a tall order.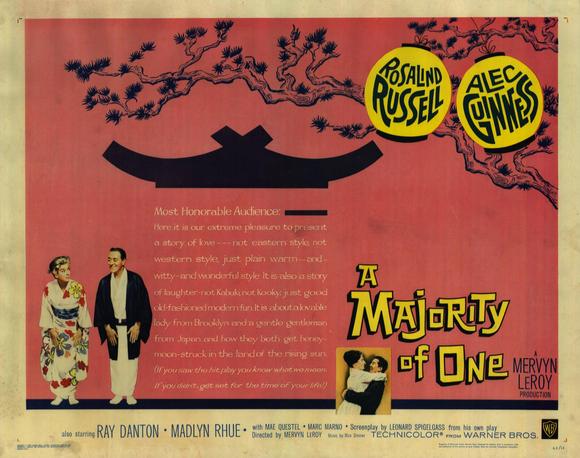 This charming film has a warm message of understanding and forgiveness. Russell makes a quirky, delightful Jewish mother and what could have been an uncomfortable performance by a lesser actor a is low key and respectful one with Guinness as the Japanese business man.
This is recently available on DVD. The trailer is above, posted to YouTube by skipjacktuner. The poster is available from
MoviePosterShop.com
.
Obscurity factor: 7 (available on DVD, not well remembered, though it does have a small, devoted following)