Obscurity factor: 7
With the last two posts (
What's the Matter with Helen
and
Whatever Happened to Aunt Alice
) could you doubt that this one was next? Rosie Forrest lives in a big mansion not far from an orphanage. She's something of a benefactress to the orphans, inviting 10 of the best behaved to a Christmas party every year. Unfortunately, she's also a bit off her rocker, keeping and "caring for" the mummified corpse of her daughter in a crib in the attic. When two of the more lively children from the orphanage sneak into the party, Auntie Roo is struck by how closely the girl resembles her dearly departed daughter. She kidnaps her and her mischievous brother become suspicious. When he, too gets kidnapped by Rosie, they begin to discover the depth of Auntie Roo's dementia.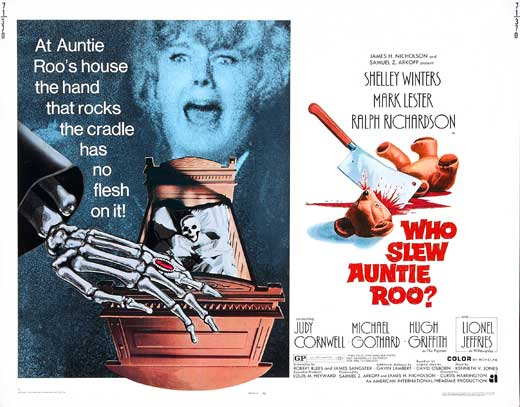 This film was directed by Curtis Harrington, at the request of Winters because of the rapport they had on
What's The Matter with Helen
. Look for Ralph Richardson playing a faux psychic.
This film is available on DVD in a double feature collection with
What Ever Happened to Helen
. It can also be seen in full on YouTube, but the uploader has disabled embedding. Click this
link
to watch. The trailer is above, uploaded by cassandracollins. The poster above is available from
MoviePosterShop.com
.
Obscurity factor: 7 (available on DVD and YouTube, largely unknown outside of cult circles)