Obscurity factor: 5
This film has a strange quality. Primarily because of the strange pairing of stars and director (Douglas Sirk). Sandra Carpenter (Ball) is an American stranded in London after the show she was in folded. She's supporting herself as a dance hall girl. When a friend from the dance hall disappears, she is drafted by the police to help solve the crime. They've been getting strange poems that precede the disappearance of girls who have answered ads in the personal columns for some time now, and want to use Sandra as a lure to flush out the killer. Concurrently she meets Robert Flemming, a night club owner who becomes fascinated with her. They fall in love, but he is also a prime suspect. Will they find the killer before he finds Sandra?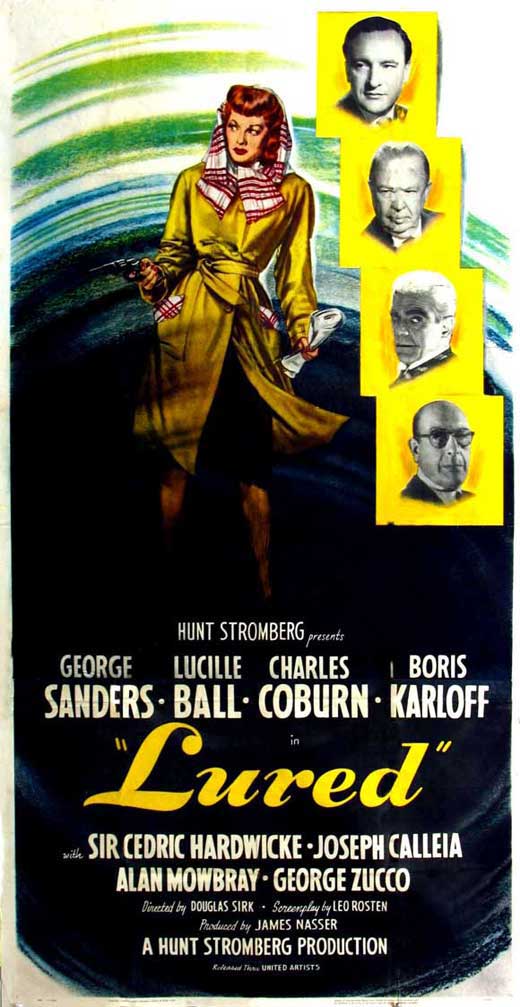 There is lots to enjoy in Lured - Lucy is restrained, but delightful as the damsel in distress - though she's not as distressed as you might think. She can, and does take care of herself. In the process of hunting for the killer, she goes through many ordeals as a result of answering ads in the personals. Look for a particularly stylish segment with Boris Karloff. It's interesting to see her in an early Sirk film because their careers went off in two completely different directions after this.
This film is available on DVD and can be viewed in its entirety on YouTube, thanks to an upload by IveGotSplainin2Do. The poster above is available at MoviePosterShop.com.
Obscurity factor: 5 (Known to Ball and Sirk fans, available on DVD, largely unknown to the general public)