Obscurity factor: 3
This film is really more notorious than obscure, but many people haven't seen it, so I thought I'd include it. Laura Mars is a successful fashion photographer in the mold of Helmut Newton. Her images combine the gloss of fashion with violent imagery. When the people she works with start turning up dead, brutally murdered, the police become interested in her work because her fashion photos closely resemble their unpublished crime scene images. As the case develops a strange things starts to happen - Laura begins to have visions of the crimes as seen through the killer's eyes.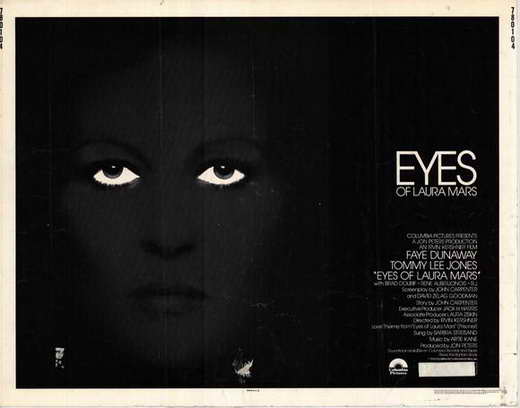 This film, which was produced by Jon Peters, while he was still dating Barbra Streisand, is very stylish in both acting style and presentation - so much so that it gets in the way of the story at times. The visuals are really remarkable and worth the price of admission and Faye Dunaway gives a very studied and self consciously serious performance that can be fun to watch. Streisand turned down the role, but ended up recording the theme for the film.
Look for this film on DVD. Above is a featurette filmed during the making of
Eyes
that is fun to watch, and gives you an idea of what to expect. It was uploaded to YouTube by CyanArea. The poster above is available from
MoviePosterShop.com
.
Obscurity factor: 3 (Available on DVD, has cult following)