Obscurity factor: 2
Yesterday, when I wrote about
Penelope
(1966), it reminded me of this film. It's a strange film for this blog because it is both obscure and notorious at the same time. It is, in my opinion, such a bad film it's almost unwatchable, however it's also got so many stellar actors in it, and the production values are so high that the colossal failure of it is truly fascinating. Shirley MacLaine plays Louisa May Foster - a woman who has a curious effect on men. She falls in love with them, marries them and they become instantly successful beyond their wildest dreams, then drop dead.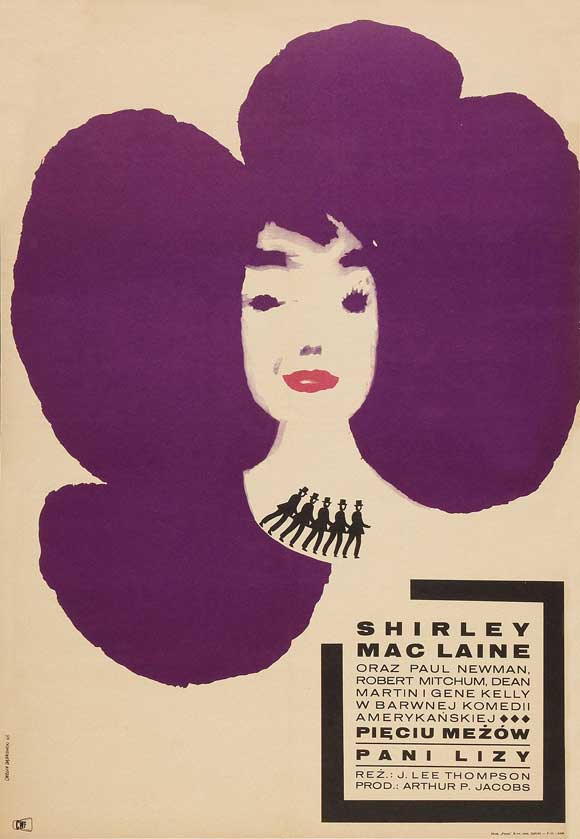 The men in Louisa's life are played by Dick Van Dyke, Paul Newman, Robert Mitchum, Gene Kelly, Bob Cummings and Dean Martin. Her wardrobe was designed by Edith Head (as was Natalie Wood's in Penelope) and according to the trailer below cost around $500,000 - in 1964! It really is one of the most outrageous films to look at, though much better without the sound, in my opinion. Look for Margaret Dumont in the role of Louisa's mother and scan the dancers in the shipboard number for Teri Garr.
This film is available on DVD. It was released in 2005 and it has quite a cult following with lots of reviews on Amazon. The trailer above is uploaded to YouTube by nerdletta. The fabulous poster above is from the Polish release and is available at
MoviePosterShop.com
.
Obscurity factor: 2 (available on DVD, has a big cult following, unknown generally to anyone who didn't live through the marketing campaign)