Obscurity factor: 8
Penelope is bored, and feels neglected by her banker husband (Ian Bannen), so she decides to rob his bank. Wouldn't you? Okay, maybe you wouldn't, but then you're not Natalie Wood. Penelope is a kooky girl - a kleptomaniac who has been pilfering things since college. She sees a therapist about it (Dick Shawn) and eventually decides to make a clean breast of it and confess. The problem is nobody believes her!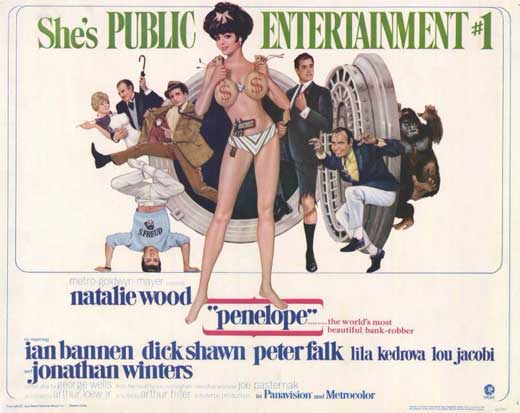 While not brilliant, this light comedy is lots of fun for a number of reasons. The cast features some great character actors - Peter Falk, Lou Jacobi, Jonathan Winters, Arlene Golonka - and the delivery is bright and quick. Penelope wears some gorgeous clothes and looks glamorous throughout - even when she forgets her shoes, which she does often. Edith Head did the wardrobe for the film and they even produced a short about the fashions narrated by Ms. Head. Look for it occasionally on TCM.
Penelope
isn't available on DVD yet, but you can watch it in full on YouTube. It was uploaded by stephsayss. The poster above, with the suggestive money bags is available at
MoviePosterShop.com
.
Obscurity factor 8 (not on DVD, available on YouTube, largely forgotten, occasionally aired on TCM)