Obscurity factor: 8
With the recent threat of a government shutdown, I thought this would be the perfect film to profile. It's about what was, at the time of this film's release, 19 years in the future -1998 and the USA is in trouble. The country is broke and has borrowed 4 billion dollars from its richest citizen, Sam Birdwater - a native American who is about to call in the debt. President Roosevelt (John Ritter), who is into EST and Scientology has decided that the best way to finance the debt repayment is to hold a 30 day telethon. Preparations for it begin with hiring the host - a former film star (Korman) who now has a successful television series called
Mother & Father
where he plays a gay father who works as a female impersonator. Undermining the effort is the president's assistant (Fred Willard) who is working with a united Arab-Jewish state Hebarab to make a grab for the country by buying it from San Birdwater when he repossess it.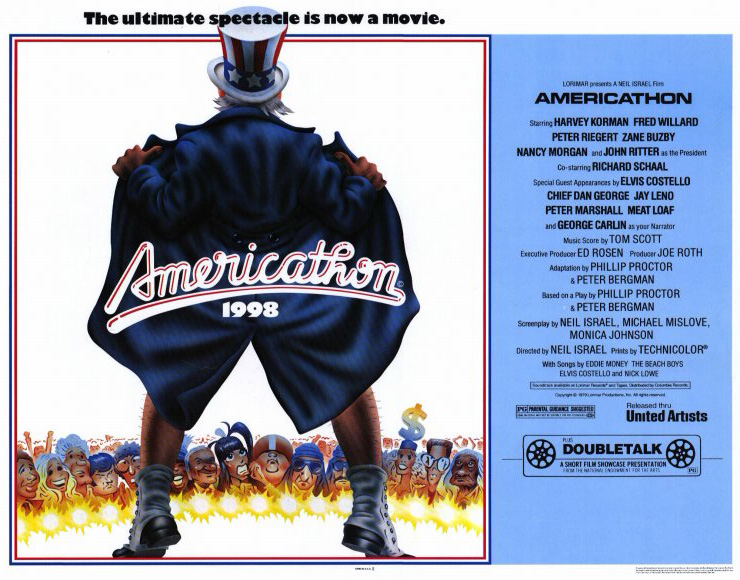 What's remarkable about this film is not the plot or acting, both of which are passable, but the amazingly prescient predictions about future life. Among them are China embracing capitalism and becoming a world power, peak oil, native American wealth, the casualization of American fashion, the ascendancy of reality television, the acceptance of alternative lifestyles in popular culture and the rise of gold being touted on television as an alternative way to secure wealth. Inevitably they get a few things wrong as well, including predicting North Dakota as the first all gay state. Look for Richard Shcaal, veteran of MTM sitcoms and Valerie Harper's former husband as the vice president and cameos by Elvis Costello, Meatloaf, Tommy LaSorta, Howard Hessaman, Jay Leno and the Del Rubio Triplets.
This film, by Neal Israel, the director of
Bachelor Party
was just released on DVD in January of this year. It can also be see on Veho. Above is the trailer, uploaded to YouTube by wholmes. The poster above can be found at
MoviePosterShop.com
.
Obscurity factor: 8 (Never screened, just available on DVD, largely forgotten)