Obscurity factor: 5
Fly high with the fun girls of Polar Atlantic Airways! These three girls (Pamela Tiffen, Lois Nettleton and Dolores Hart) are foot loose and fancy free on the New York, Paris, Vienna route. They each meet a special someone and each go through turbulence with them in the high flying world of being an airline stewardess. Carol (Tiffen) falls in love with a co-pilot (Hugh O'Brian), Donna (Hart) with an Austrian baron who turns out to be a smuggler and Hilda (Nettleton) with a shy, unassuming millionaire who flies coach (Malden). Will these girls be able to make their romances work when the wheels are on the ground?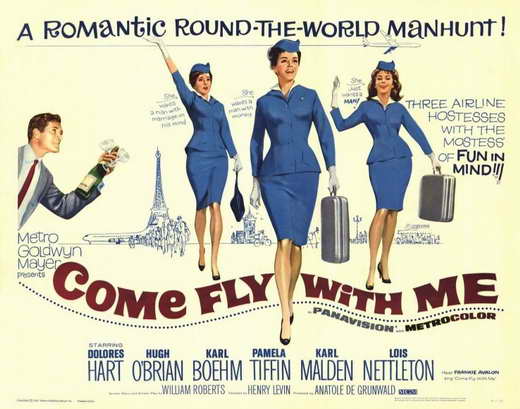 This film is beautifully shot in New York and Europe and though the story is stock and soapy (sort of a high flying
The Best of Everything
without the suicide) the performances are charming and the characters are enjoyable. For those of you who know New York's Kennedy Airport, look for it in its architectural hey day during the opening credits.
This was the first of the films to glamorize the lives of stewardesses in the 1960's. It's somewhat known for that distinction. It's not available on DVD yet, and somewhat hard to find. You can, however, watch the whole film on YouTube. Part one is above, uploaded by heapsoflovenozomi. The poster above is available at
MoviePosterShop.com
.
Obscurity factor: 5 (known for being a "first", not on DVD, otherwise obscure, available on YouTube)