Obscurity factor: 7
This film and the book it was based on are very fond memories from my childhood. Claudia Kincaid (Sally Prager) is dissatisfied with her life. She yearns for drama and glamor. So she enlists her brother Jamie (the one who is the best at saving his money) in a scheme to run away. Sally is no ordinary, run of the mill runaway though. She has a plan. She and her brother will become guests of The Metropolitan Museum of Art. While there, between bouts of sleeping in Marie Antoinette's bed and bathing in the reflecting pool in the restaurant they find themselves returning to look at a beautiful statue that was just given to the museum and has a great mystery attached to it. As they become more convinced they know the secret of the statue, it becomes imperative that they track down the reclusive donor, Mrs. Basil E. Frankweiler (Bergman).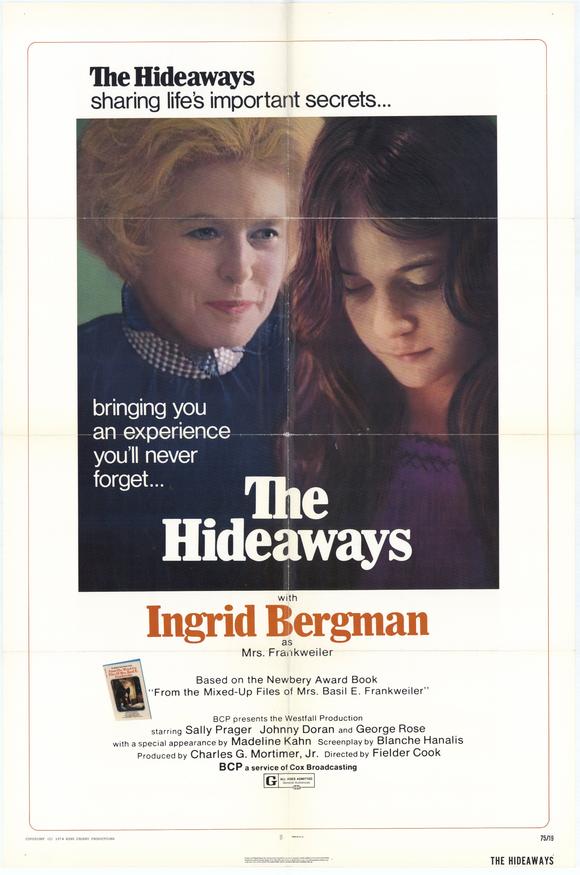 This story was very empowering to me as a child. It celebrates the ingenuity children have innately and doesn't devolve into a sugary sweet story of frantic parents and wayward, helpless waifs. Look for Richard Mulligan and Madeline Kahn in small roles early on.
Though I could only find a small snippet worth watching online, you can get this film on DVD under it's European title - The Hideaways. Don't be fooled into buying the condensed 30 minute version under the original title, go for the full 105 minute original cut. Above is a delightful scene with Claudia and Jamie exploring the galleries of the museum uploaded to YouTube by phoenixfilmandvideo.
Obscurity factor: 7 (hard to find, a fond memory for children who grew up in the 70's, available on DVD)