Obscurity factor: 1
One night after a party at their home, Sheila Green, wife of film producer Clinton Green is killed in a hit and run accident. A year later, the guests from the party are invited for a week on Clinton's yacht. There's the script writer (Richard Benjamin) and his wife (Joan Hackett), the agent (Dyan Cannon), the starlet (Raquel Welch) and her manager (Ian McShane) and the director (James Mason). But a gathering organized by Clinton is never just a gathering - all the guests are to play a game. They're each given cards with a secret on them and must discover each others secret without letting their own be revealed. Each night there is a trip to shore with a clue given that leads to the answer to one of the secrets. What makes the guests uneasy is that each of the secrets relates to an incident in one of the guests lives. When the game leads to murder all bets are off!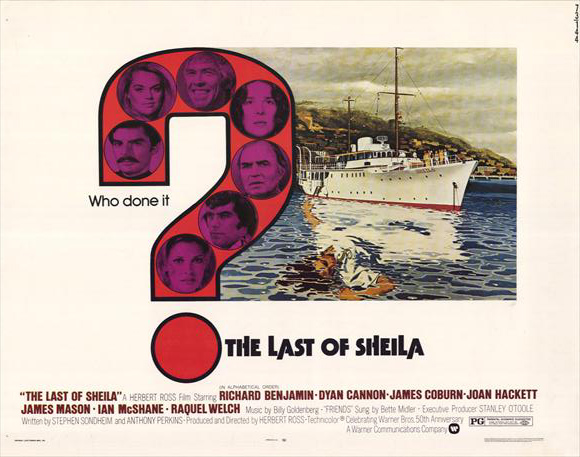 This was on TCM last night. Its obscurity is dubious in that it's notorious for being written by Anthony Perkins and Stephen Sondheim. The plot is full of extremely clever twists and turns and you must watch closely to keep up with them all, but the film is, in some ways, a bit too clever for its own good.
It's available on DVD and can be watched instantly on Amazon. The trailer for it is above, uploaded to YouTube by Nederama. The poster above is available from
MoviePosterShop.com
.
Obscurity factor: 1 (somewhat notorious, available on DVD)