In this Billy Wilder comedy we find Wendell Armbruster Jr. (Jack Lemmon) heading to the Amalfi coast to claim the remains of his father who died in an automobile accident. When he arrives he discovers that his father wasn't alone in the car - he was with his British mistress of 10 years and her daughter (Juliet Mills) is also there to claim her remains. Through a series of mishaps and bureaucratic snafus in claiming their relatives, the couple is thrown together for several days and they begin to fall in love. However, Wendell's puritanical personality is a major obstacle they must overcome if anything is to come of it.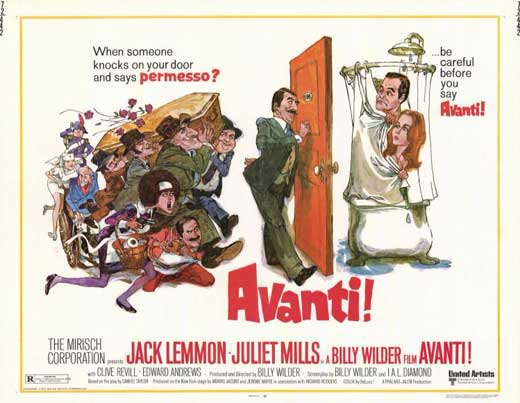 Though not one of Wilder's great films, there's a good deal of charm to be had in
Avanti!
The chemistry between Lemmon and Mills is delightful and the setting is magnificent.
Avanti!
is not a well known film in its own right, but its being a Wilder film gives it some notoriety. It's available on DVD and can be watched in its entirety on YouTube. Part one is above, uploaded by vaFFamBuco. The poster above is available at
MoviePosterShop.com.
Obscurity factor: 4 (known to Wilder fans, available on DVD)