Obscurity factor: 8
Paul Sloan (Dick Van Dyke) is a painter living in Paris. He rooms with his friend Casey (James Garner), a writer. Paul has become disenchanted with painting and has decided to go home to America and his rich fiance, Laurie (Angie Dickinson). Casey sees his meal ticket flying the coop, so he gets Paul drunk and they toy with the idea of faking his suicide to increase the value of his paintings. When Paul jumps off a bridge to save a girl, Nikki (Ekle Sommer) who jumps before him Casey thinks he's gone and done it. Of course Paul is fine and rescues the girl and they end up on a barge floating downstream. Casey is distraught, but not upset enough not to capitalize on the "posthumous" success of his paintings. When Paul turns up alive in their flat, Casey convinces him play dead and continue painting so they can rake in the loot. Things get more and more complicated as Nikki comes back and Laurie flies to Paris. Nikki falls in love with Paul and Casey and Laurie start to spark. Out of jealousy Paul decides to frame Casey for his murder.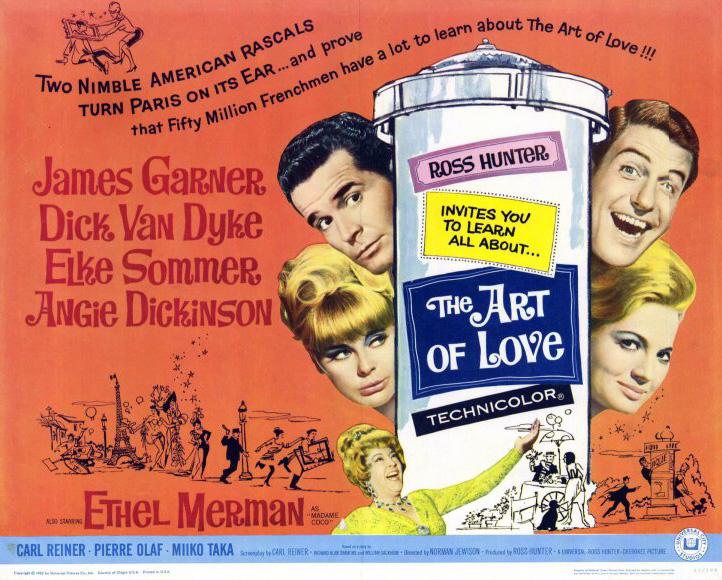 This film is, by no means a great one, but there are moments of charm to be had. Ethel Merman plays Madame Coco, the owner of a nightclub where Paul hides out. She's her delectable self. James Garner throws a wonderful tantrum in a jail house scene, Carl Reiner plays a delightfully unctuous lawyer and there are historical and literary references threaded throuhgout - Toulouse Lautrec, Madame De Farge...
This film is available in its entirety on YouTube but has not been released on DVD. Above is part one, uploaded by jkcPhog2001.
Obscurity factor: 8 (largely forgotten, not on DVD, available on YouTube)