Obscurity factor: 8
This is a very strange film. It's a farce, with all the door slamming and misunderstandings that the genre implies. It also has a touch of
How To Succeed in Business Without Really Trying
. I guess what makes it strange to me is it keeps shifting focus and you're not sure who to root for.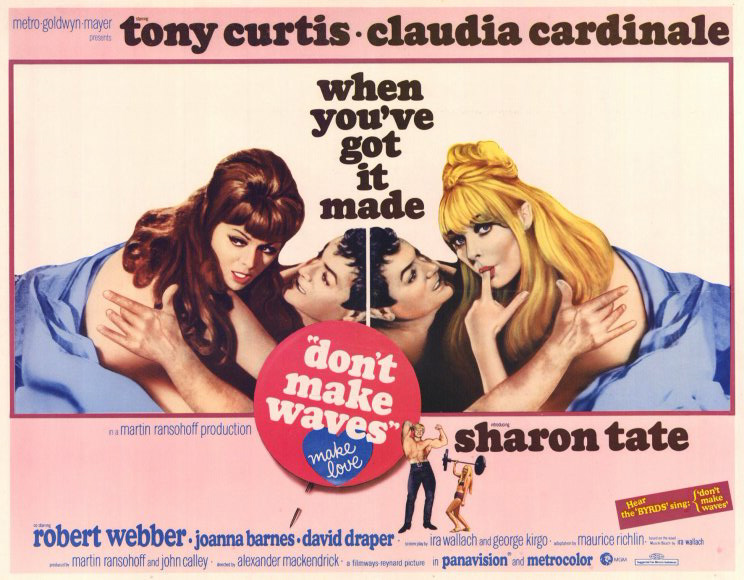 It's the story of Carlo Cofield (Curtis), a Midwesterner who heads to southern California to start fresh. As he arrives he stops on a hillside to admire the view and a careless girl (Cardinale) bumps his car, which rolls down the hill and catches fire, destroying everything he owns. When the careless girl blames him for blocking the road with his burning car he blows up. They eventually mend fences and she invites him to stay in her apartment for the night so he can get back on his feet. Of course a girl as beautiful as Claudia Cardinale wouldn't be unattached. Her married boyfriend arrives and they hurriedly try and hide his presence and him. The boyfriend eventually discovers him, and Carlo blackmails him into giving him a job selling swimming pools. Here's where the How to Succeed plot line comes in - Carlo is quite an operator. In a few short weeks he wrangles himself a glamorous house perched high on a hill, complete with Rolls Royce. The sub-plots abound aplenty - Carlo has become obsessed with a beach bum sky diver (Sharon Tate) who rescued him from drowning. Everything he's done has been aimed at getting the girl away from her muscle boy boyfriend (David Draper). Laura (Cardinale) wants to marry her already married boyfriend, whose wife owns the company he runs. She finds out and wants to divorce him - from herself and her company. It all culminates in a dramatic rain storm that threatens to spectacularly topple the house on the hill, which they all find themselves in. The cheesecake abounds, but in a nice touch for the ladies and gay men, so does the beefcake - David Draper is very nice to look at. Look for counterculture comedian Mort Saul in several scenes and Jim Backus and his wife Henny playing themselves in a cameo.
This film hasn't made it to DVD yet, but you can find it on VHS and it's uploaded in its entirety to YouTube. It's not aired on TV much, but I saw it as part of TCM's tribute to Tony Curtis, so it's occasionally screened.
Obscurity factor: 8 (not yet on DVD, available on VHS and YouTube, largely forgotten)