Obscurity factor: 2
This charming little film tells the story of Helene Hanff (Bancroft), a native New Yorker who loved literature. In the early post war period it wasn't as easy as it is now to find the classics of literature. Helene had trouble locating titles she wanted until she saw a small ad for a London bookstore specializing in obscure and antiquated books. In part, due to her gregarious nature and part due to her skill at writing, she developed a friendship with the staff at the store, exchanging care packages to make up for the post-war food shortages in England and buying many different volumes of English literature. The particular manager with whom she developed the closest rapport was Frank Doel (Hopkins). Their correspondence was a warm and important one in each of their lives, chronicling the changes that occurred to them personally and in the world at large from 1949 until his death in 1968.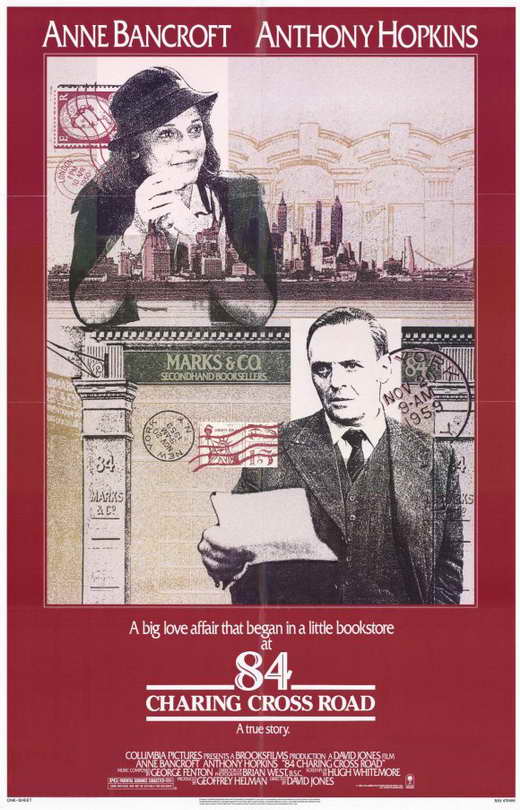 This film faithfully recreates the unique relationships and is a lovely portrait of the two cities during those times. Also look for Judy Dench as Doel's wife and Mercedes Ruehl as a friend of Helene's.
This is the fourth incarnation of this story witch originated as a book by Ms. Hanff. It's well loved by many, though not high in the public consciousness. It's available on DVD and parts are uploaded to YouTube. The trailer is above, uploaded by MariaAlfancinha
.
The poster is available from
MoviePosterShop.com
.
Obscurity factor: 2 (on DVD, well loved by fans, unknown to a large portion of the population)