This film owes a lot to Hugh Hefner, who's brand of bachelorhood was much envied and widely copied in the swinging sixties. Stanley Ford (Lemmon) is one of those blissful bachelors. He's a comic strip creator and wealthy New Yorker. His life is extremely ordered, thanks to his man servent, Charles (Terry Thomas). And his comic strip character, Bash lives life in much the same way his creator does. Ford attends the bachelor party for one of his friends and drinks a bit too much, only to awake the next morning, married to the blond bombshell who emerged from the cake at the party. Mrs. Ford (Virna Lisi) is shapely, beautiful, sensuous and doesn't speak a word of english! Suddenly Stanley's world is turned upside down - Charles leaves him, his home is redecorated and his social calendar is rearranged, his in-laws descend upon him and he finds himself unable to sustain the marriage of his character Bash. When plans to do away with Bash's wife are confused for plans to do away with his real life wife, she disappears, leaving him to defend himself in a criminal trial. Will she turn up before he ends up in jail?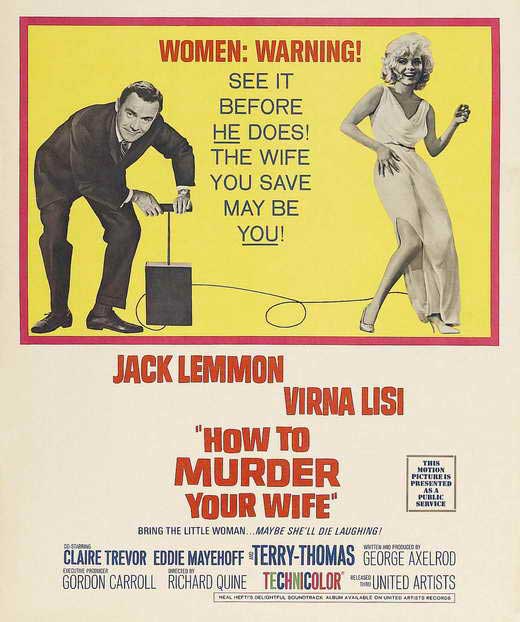 Though rather silly at times, and decidedly misogynistic, this film is a fun time capsule of 60's attitudes about marriage and the battle of the sexes. Look for Claire Trevor, Mary Wicks and Jack Albertson in the cast as well.
This film is available on DVD, and can also be watched instantly on Amazon. Above is the opening sequence with Terry Thomas giving you a tour of Ford's gracious lifestyle. It was uploaded to YouTube by ttfellowship.
Obscurity factor: 4 (known to Lemmon fans, on DVD and streaming, not widely known)